I write every day — every single day.  I am living my dream as a full-time writer. Sign up for my newsletter at the bottom of any page — I send them monthly featuring advanced news plus member-only giveaways.
Pane and Suffering, the first book in the Webb's Glass Shop Mystery Series was released on September 29, 2015.  Stop by your local bookstore or use a link:
To solve her father's murder and save the family-owned glass shop, Savannah Webb must shatter a killer's carefully constructed façade…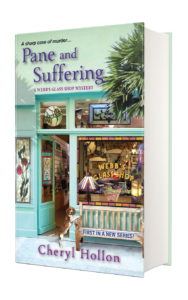 After Savannah's father dies unexpectedly of a heart attack, she drops everything to return home to St. Petersburg, Florida, to settle his affairs–including the fate of the beloved, family-owned glass shop. Savannah intends to hand over ownership to her father's trusted assistant and fellow glass expert, Hugh Trevor, but soon discovers the master craftsman also dead of an apparent heart attack.
 "A fresh and original new series! Savannah Webb is as clever at piecing together clues as she is at piecing stained glass. Well-crafted with smart and intriguing clues, Pane and Suffering will keep you guessing to the end!"
—Krista Davis, New York Times bestselling author
The next book in the series Shards of Murder  was released on February 23, 2016.   
When a glass-making competition turns deadly, glass shop owner Savannah Webb must search for a window into a criminal's mind…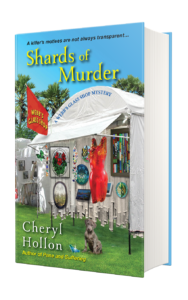 As the new proprietor of Webb's Glass Shop, Savannah has been appointed to fill her late father's shoes as a judge for the Spinnaker Arts Festival, held in downtown St. Petersburg, Florida. With her innovative glass works, the clear winner is Megan Loyola, a student of Savannah's former mentor.When a glass-making competition turns deadly, class shop owner Savannah Webb must search for a window into a criminal's mind…
"The setting, the craft, the dog – all are critical to a cozy mystery, and here Hollon hits a homerun. The plot has a couple of surprising twists that decrease its predictability making it an entertaining amateur sleuth adventure."– RT Book Reviews, 4 Stars
The third book in the series Cracked to Death  was released on June 28, 2016.
When a treasure hunt leads to deadly plunder, it's up to glass shop owner Savannah Webb and her trusty investigative posse to map out the true motives of a killer. . .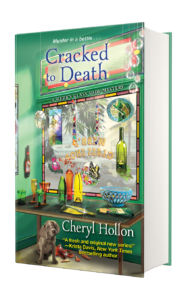 It's the dog days of summer in St. Petersburg, Florida, and Webb's Glass Shop proprietor Savannah Webb has an eco-friendly plan to help locals escape the heat–a recyclable bottle-crafting workshop taught by reticent store manager Amanda Blake. Turns out, the class is a bigger smash than expected, thanks in part to a pair of staggeringly old bottles brought in by snorkeler Martin Lane . . .
"Interesting…. The novel's pace is leisurely, built around character interactions, travelogue, and lots of information about glass art."
—Colete Bancroft, Tampa Bay Times
The fourth book in the series Etched in Tears  released on November 28, 2017.
When a famous glass artist is murdered at his own exhibit, deadly secrets are put on display, and it's up to glass shop owner Savannah Webb to see through a killer's cover. . .
Celebrated glass artist Dennis Lansing is returning to St. Petersburg, Florida, for an exhibit at the world-renowned Salvador Dali Museum. His unique style of embedding document images in his art is a the vanguard of contemporary glasswork. But as Savannah's first boyfriend and a former apprentice to her father, Dennis's return home has her reflecting on the past–a trip down memory lane that takes a dark turn when Dennis is found murdered at the museum with an old reference letter from her father in his pocket. A search through her father's records sheds new light on Dennis's history, but it seems his present life wasn't so transparent either. Now, with a gallery of suspects to consider, it's up to Savannah to figure out who fits the mold of a murderer.
"Cheryl Hollon clearly knows her glass craft, but better still, she also knows how to craft a good mystery."
—Sheila Connolly, New York Times bestselling author
The fifth book in the series Shattered at Sea  released on August 28, 2018.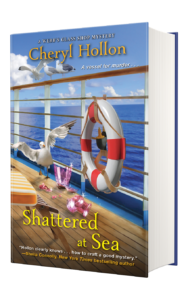 A Mediterranean cruise gives glass shop owner Savannah Webb a chance to demonstrate her expertise—and fire up her skills when it comes to foul play . . .
When Savannah signs on to perform glassblowing on a ship, part of the appeal is that she'll get a chance to reconnect with her boyfriend Edward's family. An added bonus is that Edward's cousin, Ian, will be joining them on board. But when Ian disappears at the beginning of the cruise, the ship's authorities initially consider it suicide.
Savannah tries to balance her growing suspicions with work on her shows, but her relationship with the other glass artists begins to crack. And she can't let love color her judgment when Edward suddenly jumps to the top of the suspect list. His fate is in Savannah's hands, and she'll do everything she can—on land and sea—to clear his name . . .
The sixth book in the series, Down in Flames, released on June 25, 2019.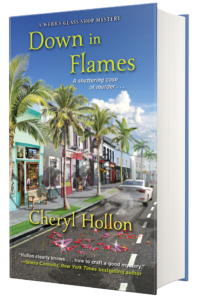 A fatal hit-and-run in front of Savannah Webb's glass shop proves to be no accident . . .
A highlight of Savannah's new glass bead workshop is a technique called flame-working, which requires the careful wielding of acetylene torches. Understandably, safety is a top priority. But as Savannah is ensuring her students' safety inside, a hit-and-run driver strikes down a pedestrian outside her shop.
The victim is Nicole Borawski, the bartender/manager at the Queen's Head Pub, owned by Savannah's boyfriend Edward. It quickly becomes clear that this was no random act of vehicular manslaughter. Now the glass shop owner is all fired up to get a bead on the drive — before someone else meets a dead end . . .
—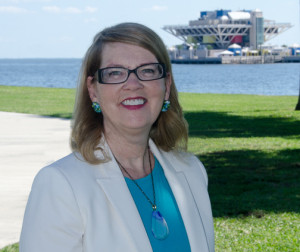 Cheryl is Past President of the Florida Gulf Coast Sisters in Crime, and a member of Mystery Writers of America, International Thriller Writers, and Novelists, Inc. A conference addict, she regularly attends SleuthFest in Florida, Malice Domestic in DC, Killer Nashville in Tennessee, and Magna Cum Murder in Indianapolis, IN. You will also find her at Left Coast Crime and Bouchercon, wherever they are being held. Cheryl and her husband live in downtown St. Petersburg, FL.
Follow Cheryl on Twitter @cherylhollon
Like Cheryl at Facebook  
Follow Cheryl on Instagram
Follow Cheryl on BookBub
A video on making a Glass Coaster in our shop:
This production was created by 2 Hungry Dogs in St. Petersburg, Florida. (It's only a minute long, but I look like I want to escape.) It is the first in a series and was lots of fun.
Here's our second video – yep, eyes closed as well!
Here's our third video – love making jewelry!
Also, here's a local video interview with Mr. Media on the publishing of my first book:
St. Pete landmarks are packed with Pane and Suffering! VIDEO INTERVIEW